"Magical Muscat" - Muscat City Tour (Half-Day) - ASD – DT 01
Your tour starts with a visit to the Grand Mosque standing in stately grandeur. A visit to this beautiful piece of architecture is a must for all tourists (open daily for visitors, between 0800–1100 Hrs, except Fridays). Drive through the Embassy district and along Qurum Park/Corniche to Muttrah. Then visit the Fish and vegetable markets in Muttrah. Feel free to mingle with the crowd. Visit the Muttrah Souq where you will find a mix of old and new. Sights, sounds and fragrances are in abundance. We then drive past the Corniche and to the capital area before we take a photo stop at the Sultan's Palace flanked by the 16th Century Portuguese forts of Jalali and Mirani. We visit Bait Al Zubair Museum for a fine display of Omani culture and history. Photo stop at Oman's premier hotel, The Al Bustan Palace. Return to the Hotel.
Dress code to Grand Mosque – Women should wear attire covering their arms and legs and should cover their head with scarf. Men should wear normal shirt and trousers)
Museums are closed on Friday
"Muscat by Night" - Muscat City Tour (Half-Day) - ASD – DT 02
A chance to see Muscat at its best, your guide will show you the highlights of this magical city, made all the more dramatic, with an evening tour. First stop is The Sabco Centre, with multiple retail outlets and a traditional souk. The souk has numerous shops that sell silver jewellery, handicrafts and clothes range of silk rugs, wall hangings, table linen and cushion covers, fabulous gifts for your friends or your own home. The flag ship store of Amouage perfume is a must for all visitors so you can sample "The most Valuable perfume in the world".
We then continue onto the recently opened Bait Al Baranda museum and Al Dhalam Souk, Oman's largest indoor market. At the Souk, built in traditional style, you will find exquisite silver jewellery, frankincense, intricately hand-made Khanjars (daggers) and other handicrafts. Your guide will also show you the local Omani sweet, known as "Halwa" from one of the shops within.
The tour continues east along the Corniche to Muttrah (Old Muscat). Nearby is His Majesty Sultan Qaboos's Al Alam Royal Palace protected in the bay by the famous twin forts of Jalali and Mirani,rebuilt by the Portuguese around 1558.
Finally, we drive back along the Corniche taking time to stop for photo opportunities along the way as this area is particularly stunning by night. Its old merchant houses are lit by multi coloured lights, there are coloured fountains all set against the back drop of the port.
Museums are closed on Fridays
"A Journey to the Past" - Nizwa / Bahla / Jabrin Fort (Day Trip) - ASD – DT 03
A journey to the past through the Sumail Gap that divides the Western and Eastern Hajars and onto the Old Capital of Oman, Nizwa, famous for its silver souq and a big round fort. After visiting the souq and the fort, proceed to Al Hamra, a picturesque old village reminding of Yemenite architecture and unto the beautiful rocky village of Misfat al Abriyyin. The mountain village is set amidst stunning landscape and has hardly changed over the years.
From here we move to Bahla with the huge loam fort which is under renovation at present. Bahla is also known as the pottery capital of Oman. Because of its cultural value, Bahla is placed in the UNESCO's list of heritage monuments. Next visit is Jabrin fort, where you will find one of the most magnificent forts of Oman with its painted ceiling, dungeons, and hidden passages. Return to Muscat in the evening.
Recommend starting time on Friday's is at 0700 Hrs, as all Forts close at 1100hrs. The Friday tour will include a visit to the famous Goat Market in Nizwa.
Fascinating Forts" – Bait Na'aman / Nakhl / Rustaq (Day Trip) - ASD – DT 04
First stop is at Barka, a seaside town with small souqs and a fort along the shoreline. Visit Bait Na'aman, a 17th Century two-storey castle, now a fully restored and refurnished country house. Here you will experience an up close and personal journey in how the Imam's lived their lives centuries ago.
As you approach Nakhl, keep an eye out for the fortress that sits on a hillock outside the town. The fort's origin is pre-Islamic with major contributions by the Al Ya'ruba and the Al Bu Sayed dynasties. We visit the fort. Visit the mineral-laden hot springs water in Nakhl. We then take photo stop at the Rusatq pre-Islamic fort, before heading back to Muscat.
The Rustaq Fort is currently under renovations and will be closed for public until further notice. Only an outside photo stop will be permitted.
"Desert Safari" - Wahiba Sands & Wadi Bani Khalid (Day trip) 4WD - ASD – DT 05
Step inside the a/c 4wd vehicles, as you drive though the Hajar Mountains. We travel to Fanjah,where we stop to take photos of an abandoned village. We drive through the Sumail Gap that divides the Western and Eastern Hajars. See the ruins of the old mercantile community in Al Mansfah which saw its heydays hundreds of years ago in Ibra.
Head towards the enchanting Wadi Bani Khalid. Drive past the village with its endless date plantations, reach the magnificent Wadi. The pools are cool, deep and absolutely stunning. From here, proceed to Wahiba, the undulating golden sands. Indulge in some thrilling Dune Bashing and then visit the Bedouin settlement before returning back to Muscat.
"The Grand Canyon of Oman" - Jebel Shams (Day trip) 4WD - ASD – DT 06
Depart Muscat in the morning by an a/c 4WD and travel via Fanjah, Izki and Nizwa. Stop at Nizwa for a stroll through the Old Capital of Oman. Drive to Al Hamra and stop at the old village of Ghul to see the abandoned Persian ruins. From here we drive along Wadi Nakhr, also referred to as the Grand Canyon with breathtaking views. At the end of the Wadi is a village where rugs with bright colors and designs are made by local weavers. Visit the local weavers and haggle for their wares.
From here we make our way up to Jebel Shams, the highest peak in Oman at 3009 meters. From here you will have an outstanding view deep into the Grand Canyon of Oman. On our way back, we will stop at Misfat Al Abriyyin, a picturesque village strapped on to the side of a mountain. As you walk around this beautiful village where time has come to a standstill, you will be moved by the simplicity and friendliness of the people. Return to Muscat late in the evening.
"Green Mountains" - Jebel Akhdar (Day trip) 4WD - ASD – DT 07
Depart in the morning by an a/c 4WD. Stop at Fanjah for a photo stop to view an abandoned village. You then drive to Birkat al Mouz, a pretty oasis known for its sheer scenic value. Drive to the roof of Oman, the Saiq Plateau which for hundreds of years has been accessible only by donkeys. The sight of terraced gardens is very interesting. A variety of fruits like, pomegranates, apricot, and lemon are grown here. There are rose gardens here and they bloom in April.
There are interesting walks in Wadi Bani Habib, Shrejaya, Al Ain and Aqur. The weather here is cool and dry. Return to Muscat late in the evening.
"Wadi Hike" – Wadi Shab (Day trip) - ASD – DT 08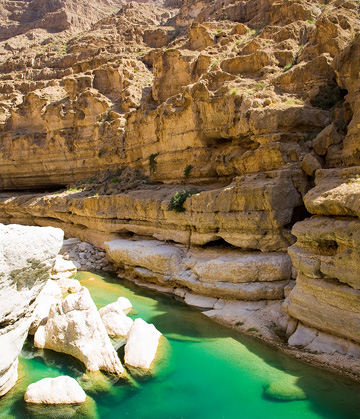 We travel from Muscat to Quriyat and over the plateau down to the narrow coastal track. Reach Wadi Shab, meaning "Gorge between the cliffs". Begin the one hour hike through one of Oman's scenic wadis. The path winds its way through caves, plantations, cliff and deep pools with scenery changing at every step. At the end of Wadi Shab there is a swim through the famous keyhole into the secluded world of thrilling fantasy.
Return back to the vehicle and make our way back to Muscat. En-route we take a photo stop at Bimah Sinkhole, a natural geological formation of the karst topography and a scenic wonder.
Kindly note that the wadi's are strewn with rocks and pebbles which makes walking difficult. Advisable to wear sturdy walking shoes.
"Coastal Trek" – The Ultimate Wadi Experience (Day trip) 4WD - ASD – DT 09
Depart from Muscat in the morning on a journey down the coast, stopping at the fishing village of Quriyat, we will drive in search of Wadi Al Arbiyyin, nestled among the gorges allowing some trilling wadi basing. In the back drop of the mountain this wadi is truly stunning. Continue to Bimah sinkhole, a geological feature and a scenic wonder. Further on is the white sandy beach of Mokhalla in Fins. From here it is a short drive to Wadi Shaab, where you can take a hike up one of Oman's scenic wadis. At the end of the hike is a swim though a famous keyhole into the secluded world of thrilling fantasy.
Later the drive continues to the lushes Wadi Tiwi, known as the "Gorge of Nine Villages". The track winds and bumps past dwellings and through date plantations. This is an amazing journey through this peaceful and fertile area, where palms reach to the sky and Bananas grow in profusion. The water from the mountains flows through sparkling pools and tiny waterfalls. The road ends at the village of Mybam at about 36 km which takes about an hour to reach. Return back to Muscat
Kindly note that the wadi's are strewn with rocks and pebbles which makes walking difficult. Advisable to wear sturdy walking shoes.
"Magnificent Remote Village" - Billad Sayt (Day trip) 4WD - ASD – DT 10
Leave Muscat in the morning and drive along the Batinah coast. At Rustaq there is a turn off to a beautiful wadi, Wadi Bani Awf. This picturesque drive though stunning sedimentary mountains will be an unforgettable journey. If canyoning excites you, there is a Snake Canyon where you can hike and even have a swim. After a spectacular drive up the mountain road, you reach the secluded village of Billad Sayt, where your eyes are treated to an amazing view, of Palm groves and terraced gardens between the stone walls. Return to Muscat.
Kindly note that the wadi's are strewn with rocks and pebbles which makes walking difficult. Advisable to wear sturdy walking shoes.
"Wadis and Mountains" - Wadi Abyadh and Wekan Village (Day trip) 4WD - ASD – DT 11
Leave Muscat. Head towards Barka, stop at the bustling fish Souq where you can see the fishermen with their catch. We then proceed to Wadi Abyadh know as the white valley. On the way you will see a picturesque village set among date plantations. Enjoy the crystal clear rock pools and experience an adrenaline rush with some wadi bashing. Later we travel to Wadi Mistal which cuts through the Hajar Mountain Ranges. After a 30 km drive through the wadi, we reach the face of a mountain which is ophiolite; there are two villages here, Hadash and Wekan.
We turn towards the right and drive up the steep and winding rock, to visit the agricultural village of Wekan which is about 1700m above sea level. Marvel at the beautiful landscape and enjoy the cool and pleasant weather here. You will find Pomegranates, grapes, walnuts, apricots and dates grown here. Return to Muscat.